Hello My Friend,
Learn to Solve Rubik's Cube with 3 Simple Tricks
You can solve the Cube by learning just 3 simple easy-to-learn Tricks.
What is truly amazing is that you could also teach your family and friends the same easy-to-teach Tricks.

Think how difficult it is to describe a turn in Rubik's Cube. And you will understand why it is so difficult to learn how to solve the cube. And almost impossible to teach anyone with words and static pictures.
If you are serious about solving the cube, forget about words and pictures and forget about books. YouTube video may be nice or entertaining, but a complete waste of time as far as learning is concerned. Nobody is expected to learn from those media.

You
need
the best animation software like this one which uses the
same 3 simple Tricks, over and over again
. You
need
3D slow motion animation that you can do and undo repeatedly at your own pace. This software will wow you. Rated top 1% of all internet software!
..I just purchased your VirtualCube 3x3x3 program, after finding the Tutor very helpful..
Will S, Colorado, U.S.

..can't get out of my mind. I think I'm gonna sue you for teaching me RightTopX now, because I keep thinking about how the cubelets swap and everything XD I keep imagining them moving..
Michal L, Porto, Portugal

I like the cubelets highlight feature a lot. This alone is worth the money... ...the cubelets highlight appear when you mouseover and disappear when mouseout..
Paul Swaindon, Waddesdon, Bucks, UK

By Wednesday I taught my son the 2 crowd-pleaser Tricks from the program. ...On Friday, his show and tell totally wowed everyone ...
Clay Tarlette, New Providence, NJ

My friend, when you have learned to solve the Rubik's Cube, the pride and joy cannot be contained. And it affects friends and family more than you can ever imagine.
You too can be the spark of conversation and admiration by learning just 3 simple Tricks from this totally awesome software.
Think
how you can influence the lives of others if you can:

Teach a 4-year-old how to do pretty patterns on Rubik's Cube.
Show a 80-year-old a simple 2-turn move that when repeated 105 times restores the Cube.
Pass along the 3 simple Tricks to your friends and family.
The easy to follow learning path will be your path to success:
Screen shot of VirtualCube 3x3x3

How many among your circle of friends really know how to solve the Rubik's Cube? The answer is probably very few if not zero. It is very hard to solve the cube and it is harder to teach. That is why the number of solvers in the world remains very small.
You can be the first among friends or first in your school to solve the Cube. How empowering is that? Yes, it is intoxicating for a 10 year old to be the first in the entire school to solve the Cube (and teaches the teachers!).
Restore Your Scrambled Cube with this software: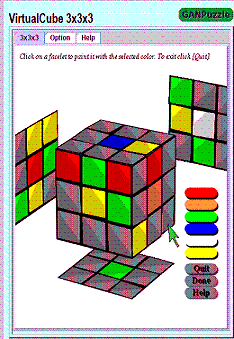 Just paint the virtual cube to look like your scrambled cube, when done, save the state to a file. (30 seconds).
Then follow the step by step (turn by turn) animation in very slow motion (undo and redo as many times as you wish). (May take up to 10 minutes).
See picture on the right. You first select a color (say green) by clicking on a color palette. (The cursor turns green). Then use it to paint the facelets by clicking on them.
You can also click on the mirrored facelets. If you make a mistake, just click the facelet again using the correct color.
Here are just a few reasons why this software is so successful:
We

tell

you how to do the next move interactively and dynamically. But that is not good enough. So we

show

you interactively and dynamically.
The shortcut keys can be used to play any of your frequently used moves.
Utmost and relentless effort is used to avoid any doubt or misunderstanding when describing a step or move, based on feedbacks from users.
The step-by-step solution is interactive and totally under your control using mouse click. You can repeat the step in slow motion as often as you like.
The 3 simple Tricks are designed to be intuitive, easy to learn and easy to teach.
Restore your messed-up cube is easy. Just paint the virtual cube to look like the cube in your hand, save it then follow the step by step ultra-slow-mo animation. It really works.
Save to file feature enables you to solve the same scramble cube over and over until you are familiar with all the moves involved.
Ask computer to solve the next step any time, then undo and stop so that you can take over and do it on your own.
The step-by-step solution description is the most detailed and most interactive.
The best java animation and the most playable.
The user interface is unparalleled. You never have to scroll. You see all sides!
The pretty patterns that you can learn to do in slow motion have proven to be a real crowd pleaser, to new and old audiences alike.
Every term used in the description is always accompanied by dynamic highlight on the cubelets referenced in the term. This will

wow

you!
Screen shot of cube-outline(left) and dynamic-text(right) when the mouse hovered over
Trick1a
.
This magic is hard to imagine. But this is what happen. You move your mouse over to a term. Then, a detailed description of the term appears and at the same time the relevant or referenced cubelets are highlighted in the applet. Then when you move your mouse away, everything is normal again. Wow!
Imagine 20 years from now. Rubik's Cubes will still be around. You pick up a scrambled Cube first time in years. And in front of astonished friends and family, you solve the puzzle with the same 3 Tricks! That surely is a life-long benefit.
There is nothing to lose but gain a life-time of
pride and joy.
You pay only US$5.95 net by PayPal or Credit Card.
100% Iron-clad Money-back Guarantee.
After your payment is accepted, you will be directed to an instant download page and within just a few minutes, you will be learning the 3 Tricks on your computer!
Peace of mind and satisfaction guaranteed or call Cheong at 647-379-1966.

You cannot lose but gain a life-time of pride and joy!!

Thank you and I wish you success in your quest to solve the cube. If you have any question, please email me for a prompt reply.

Yours sincerely

Cheong Gan, cheong@ganpuzzle.com
GANPuzzle.com

P.S. Are you still searching the net for the Rubik's Cube solution? You will find about 150,000 web pages. Some are excellent; others are a total waste of time. You can spend an entire week reading the top 100 and still gain no insights into solving the cube, only more confused.

P.P.S. Search and read no more. Experience the VirtualCube 3x3x3 software and in less than 3 days you will have the Rubik's Cube solved. Guaranteed. Buy Now!